Citroen C4 2023 review: Long-term | Part 3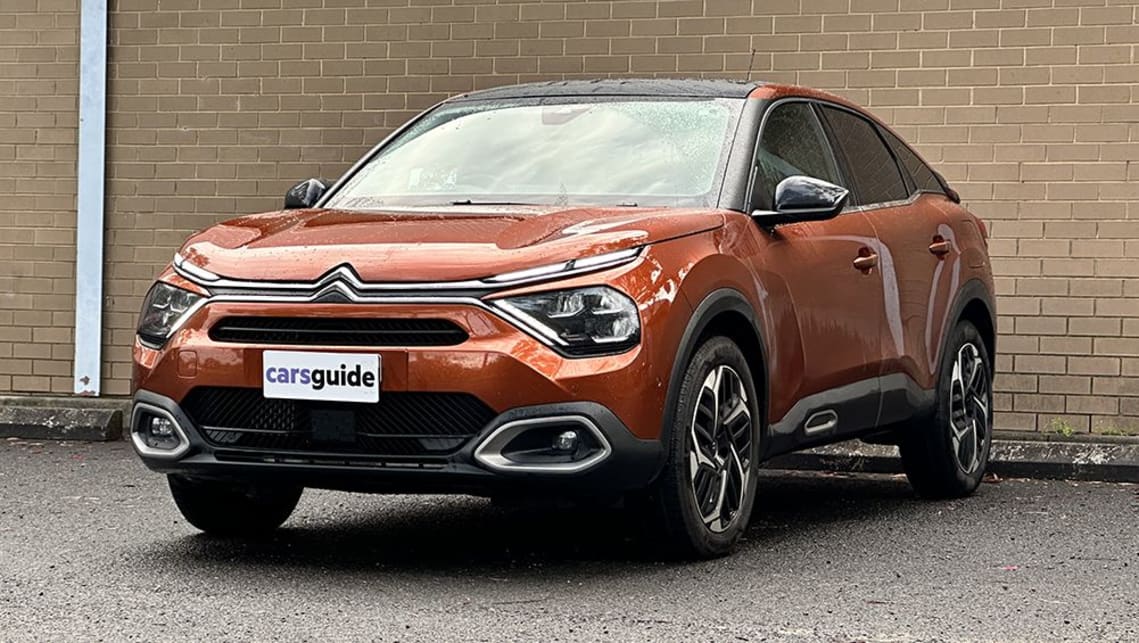 I cannot believe my three months with the Citroen C4 Shine have come to an end. I will certainly miss it, largely because of what it stands for.
You see, Citroen isn't exactly a high-volume brand in Australia. In fact, it's on the low end of 'low volume'. So, its models really have to stand for something if they're to have any chance of mixing it with rivals from mainstream European marques like Volkswagen.
The C4 is, therefore, almost singular in its focus: comfort. Yep, this is a model that wants to be known as the most comfortable option in the small SUV segment. So, is it?
Read the other long-term review instalments
The short answer is a resounding yes. The C4 delivers Rolls-Royce-like comfort at a fraction of the price. This achievement largely comes down to two key features: 'Advanced Comfort Seats' and 'Progressive Hydraulic Cushions'. As mentioned, both have become Citroen signatures in its most recent generation of models.
Now, I covered the Advanced Comfort Seats in part one of this long-term review, so go and check that out if you're interested. Point being, they're so good you'll also want them in your living and dining rooms, and at the office.
Which brings me to this instalment and how heavenly the C4's Progressive Hydraulic Cushions are. But first, a bit of background information: the passively damped suspension set-up on hand combines front MacPherson struts with a rear torsion beam. That's important to note because the latter isn't exactly known for delivering high levels of comfort.

The C4 delivers Rolls-Royce-like comfort at a fraction of the price. (Image: Justin Hilliard)
But that's where the Progessive Hydraulic Cushions come in. Two of these pressurised hydraulic shock absorbers are fitted up front, while a single one is at the rear. According to Citroen, they "give driving a real 'flying carpet' effect across slight compressions and avoid any rebound effect on poor road surfaces".
And in reality? Well, you'll hear no argument from me. The Progressive Hydraulic Cushions deliver on what they promise: comfort – and in spades. The resulting ride is seriously good over nearly all types of surfaces, with coarse-chip roads only mildly problematic. High-frequency bumps be damned!
The trade-off, though, is the C4 is not the most graceful handler. Its soft nature teams with a higher ride height to deliver a noticeable amount of pitching and rolling when tipped into a corner with intent. But you never expected it to be a sports car, did you?

The Progressive Hydraulic Cushions adds comfort for passengers when driving over bumpy roads. (Image: Justin Hilliard)
There is, of course, much more to the C4 driving story than the suspension set-up. Push even harder and you'll find the front-driver has a tendency to understeer. The electric power steering is also on the slower side and lacks feel.
But that's not to say the system is bad, because it's well-weighted at high speed and nice and light at low speed, with the latter making manoeuvres, like parking and three-point turns, just that little bit easier to perform. It's just a shame the reversing camera is so low-resolution. And don't let its 'top down' view fool you into thinking there are side cameras. That particular 'video feed' is stitched together – very poorly.
I'm also not a very big fan of the C4's grabby brakes. They're certainly capable of making the Citroen model pull up at a moment's notice – which is the most important part – but they are challenging to moderate at low speed, leading to a jerky urban driving experience.

The electric power steering is on the slower side and lacks feel. (Image: Justin Hilliard)
And given this is an UrbanGuide long-term review, it's safe to say the C4 can get on your nerves in traffic. And this feeling is exacerbated by the engine-transmission combination. Yep, the rorty 114kW/240Nm 1.2-litre turbo-petrol three-cylinder engine and eight-speed Aisin torque-converter automatic transmission don't quite do it for me.
Why? Well, they contribute an extra dose of jerkiness, with maximum torque arriving at just 1750pm, the engine's delivery is spikey when the turbocharger springs into action. Adding to this annoyance is the transmission's insistence on holding onto lower gears at any speed. As a result, the first ratio is almost exclusively experienced when in slow-moving traffic.
I also find it puzzling that in three months of 'ownership', I have never managed to get the torque-converter to automatically shift into eighth gear. Yep, it was quite happy sticking with seventh and keeping engine speeds above 2000rpm when covering long distances at 110km/h (in a well-insulated cabin, mind you). And while there is a manual mode, it's only temporary (for sporty driving), so the transmission itself will downshift after a short period of time without gear shifts.

The C4 has a 1.2-litre turbo-petrol three-cylinder engine. (Image: Justin Hilliard)
These gripes aside, the engine delivers rock-solid straight-line performance. As mentioned previously, the C4 completes the 0-100km/h sprint in a respectable 8.5 seconds. So, in city life, it's got more than enough zest. And it can even easily get the job done when overtaking on highways. The transmission's gear changes are smooth, with a 'Sport' mode available with higher shift points – I rarely bother flicking that switch.
Which brings me to my final month of fuel consumption. This time around, I averaged 7.5L/100km over 853km of driving. Not quite the 6.1L/100km the C4 achieves on the ADR 81/02 combined-cycle test, then. Mind you, I once again spent the vast majority of my time within the city limits, as per the UrbanGuide brief, so it's a decent result.
Taking a step back, though, and my full three months with the C4, I averaged a slightly higher 7.8L/100km over 2203km of driving. I'd just like to add I would've loved to add even more kilometres to the clock, but I unfortunately had to stop driving for three weeks due to eye surgery. Don't worry; I can see again now!

The Citroen C4 is $39,990 plus on-road costs. (Image: Justin Hilliard)
Either way, the C4 is a vehicle I will have fond memories of moving forward. Yes, it's by no means perfect (what car is?), but it's damn comfortable. In fact, when I handed the keys back to Citroen Australia and immediately jumped into the model I'll be reviewing long-term next for UrbanGuide, it became even more apparent just how accomplished this French SUV is.
You'll have to stay tuned for the grand reveal of what my new ride is, but it does not put a smile on my face in the same way the C4 does. You can call me crazy, but at $39,990 plus on-road costs, I'm now even more convinced the flagship Shine is a purchasing decision well-made by those who defy convention and put their hard-earned down for one. Bravo, Citroen! 
Acquired: July 11, 2022
Distance travelled this month: 853km
Odometer: 6212km
Average fuel consumption this month: 7.5L/100km
Price Guide
$39,990
Based on new car retail price
Likes
Supreme comfort
Distinctive design
Good value
Dislikes
Half-baked safety
Expensive servicing
Jerky around town
Price Guide
$39,990
Based on new car retail price
Disclaimer: The pricing information shown in the editorial content (Review Prices) is to be used as a guide only and is based on information provided to Carsguide Autotrader Media Solutions Pty Ltd (Carsguide) both by third party sources and the car manufacturer at the time of publication. The Review Prices were correct at the time of publication.  Carsguide does not warrant or represent that the information is accurate, reliable, complete, current or suitable for any particular purpose. You should not use or rely upon this information without conducting an independent assessment and valuation of the vehicle.