Kia EV6 2023 review: GT-Line AWD long-term | Part 2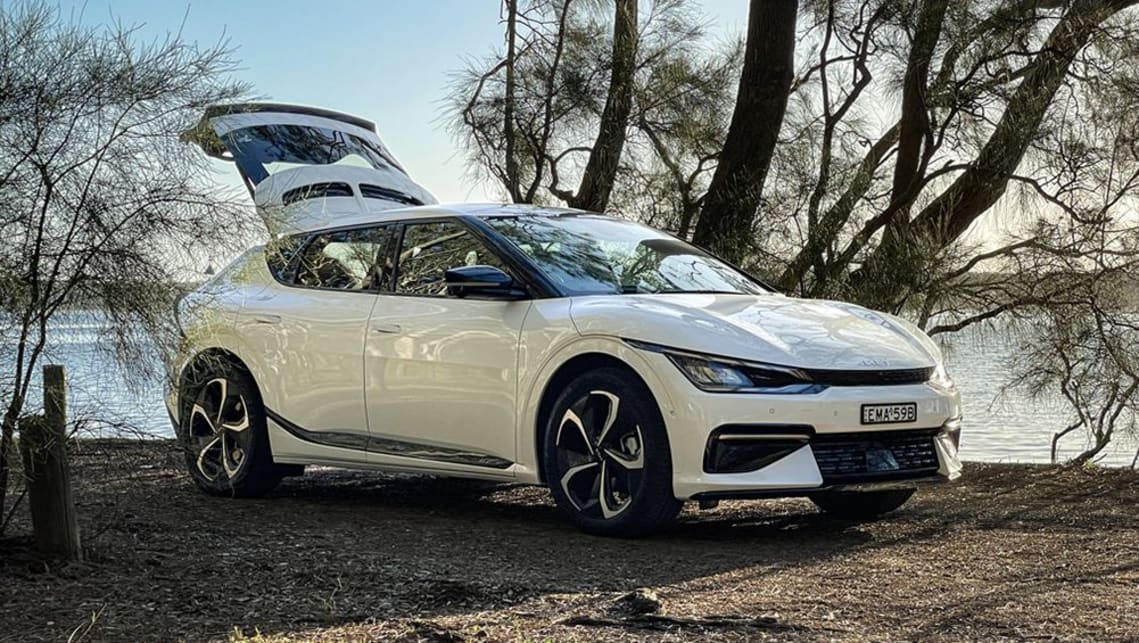 Two months in and it still feels like an event to drive the Kia EV6.
The cabin is that unusual, and the overall feel of the car is pretty epic, even in comparison to the kinds of new vehicles I have through the garage for weekly testing.
It still turns heads when driving around heavily populated areas, and I can't help but laugh a little to myself when puzzled onlookers search for a badge when you're stopped at the lights or a pedestrian crossing.
Yep, it's a Kia, but for the most part it's hard to believe it's built by the same company that makes something like the Rio hatch.
So yes, two months on, it still feels special to drive. My partner and I have become more used to its comparatively long wheelbase when it comes to parking, and are enjoying the ease-of-use of its software suite and nice ride quality.
In the last month the EV6 has seen a few longer trips, as well as being the primary workhorse for holiday duties. It readily made for a great sled over the Christmas break, as we were able to fill the 480-litre boot with presents and still have loads of room in the cabin for carrying friends and relatives. 

In the last month the EV6 has seen a few longer trips, as well as being the primary workhorse for holiday duties. (Image: Tom White)
A quirk of actually living with one of these cars for a longer period is you start to realise that a 'frunk' is a bit useless. I leave my charging cables under the net in the boot because it's much faster to access when it's charging time, and I almost never fill the boot to its capacity so I don't really need the extra space.
I also find I don't charge often. I think I used a fast DC charger a total of twice in the last month, covering a mighty 1000km. How often did you use a fuel bowser? Essentially my answer to people asking about "range anxiety" is "what's that?"
Even on the freeway, so long as you know the limits of the network, it's been a breeze to drive this car. Like my combustion vehicles, I don't even pay attention to the range in my day-to-day life until it drops to the double digits and the car tells me I have 10 per cent battery remaining.

Using the Evie 50kW DC charger (40 cents per kWh) it costs about $21 per 'fill'. (Image: Tom White)
This has ushered in a bit more of a blasé attitude to charging. When do I charge? Whenever. Sometimes I bother to plug it in at the local free AC charger. Other times I just let it drop lower before using the paid DC one. The range seems to hover at an acceptable level naturally, even though I can't charge it at home because there isn't a socket close enough. I wrote a whole article about how the proliferation of slow-charging infrastructure will essentially render "range anxiety" as a concept that nobody will talk about in five or ten years. Read it here. The key take-away is with an EV that has more than about 340km of range, you end up thinking about charging your car as much as you do charging your phone: You don't.
It helps that the EV6 is actually very energy efficient, and seems to nail its predicted range. Even after adding hundreds of kilometres of freeway driving to my total, my overall energy consumption barely moved, nudging up from 16.7kWh/100km to 17kWh/100km, and that's against an official number of 18kWh for the GT-Line AWD we're testing here.
Considering its weight and power outputs, that's seriously impressive. Some notable rivals or similarly-sized cars (ahem, Audi e-tron SUV) consume well over 20kWh/100km, for reference.  

The EV6 is actually very energy efficient, and seems to nail its predicted range. (Image: Tom White)
Do the math and this means my local Evie 50kW DC charger (40 cents per kWh) costs me about $21 per 'fill'. For comparison the average cost of 91RON unleaded in Sydney is currently at 183.7 cents working out at nearly $92 to fill the average 55-litre fuel tank. Now if we're being really fair, and we say that 55-litre fuel tank grants the average 2.0-litre four-cylinder hatchback a range of 700km per tank you would need, roughly, an additional 250km (42.5kWh at my current consumption rate) in the EV6, meaning the km-for-km fill cost is closer to $38 in the Kia. Still less than half the cost.
On the freeway, the EV6 is very accurate with its range calculation. I saw around 18.1kWh/100km for a two-hour journey north, better than many rivals, and the car behaved very well. It's reasonably quiet and the adaptive cruise suite is one of the better ones, even if the steering assist can be a bit overzealous at times. It's nice to have enough reliable range to be confident about pumping the air conditioning, too.
Even my partner has come around to the EV6, having become used to its expanded dimensions over the Niro EV, which she was a big fan of. I like the fact that I can work in it with the air con going and my laptop plugged in, even when it's charging. Like the Niro, it makes a great mobile office.
Acquired: November 2022
Distance travelled this month: 1168km
Odometer: 6455km
Average energy consumption this month: 17.0kWh/100km
Price Guide
$87,590
Based on new car retail price
Likes
Great to drive
Accurate range calculation
Head-turning looks
Dislikes
Some cheap materials inside
Not as practical is Ioniq 5
Overzealous lane keep assist
Price Guide
$87,590
Based on new car retail price
Disclaimer: The pricing information shown in the editorial content (Review Prices) is to be used as a guide only and is based on information provided to Carsguide Autotrader Media Solutions Pty Ltd (Carsguide) both by third party sources and the car manufacturer at the time of publication. The Review Prices were correct at the time of publication.  Carsguide does not warrant or represent that the information is accurate, reliable, complete, current or suitable for any particular purpose. You should not use or rely upon this information without conducting an independent assessment and valuation of the vehicle.