Mazda BT-50 2023 review: XTR long-term | Part 6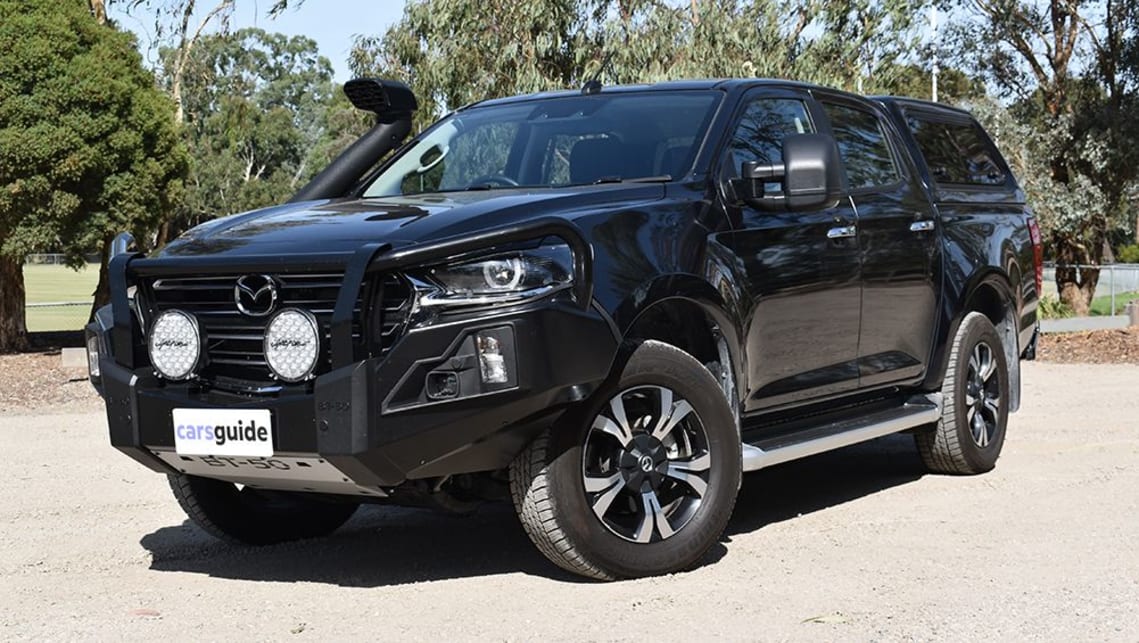 Accessories: good things come to those who 'weight'
We're really pleased with the way the BT-50 XTR build has come together over the past six months, involving installation of 12 items we selected from the Mazda Genuine Accessories (MGA) range.
Each has met our expectations in enhancing the vehicle's appearance and performance, which makes sense given most have been developed in parallel with the BT-50 from its earliest design stages and meet the certification requirements of Mazda Australia's engineering team.
Even so, BT-50 owners (indeed any ute owners) also need to be acutely aware of how much weight each accessory is adding to their vehicle. Why? Because it increases the vehicle's kerb weight, which decreases its payload limit by the same amount.
Our XTR is a good example. We asked Mazda's parts and accessories team to work out the individual weights of our MGA accessories. You might be surprised to discover that their combined weight adds up to 360kg – or more than one third of a tonne!
That means the XTR's kerb weight has increased from 2030kg in standard form to 2390kg with accessories. So, to avoid exceeding the vehicle's 3100kg GVM (or how much it can legally weigh when fully loaded) the standard 1070kg payload limit must be reduced by 360kg to 710kg.

The XTR's kerb weight increased from 2030kg in standard form to 2390kg with accessories. (Image: Mark Oastler)
For my family's travel requirements that's still ample, but if our payload had to include not only the four of us and our personal luggage but also say a winch, camping gear and tools, an extra spare wheel, jerry cans, a roof-top camper, tinny with outboard etc, we could easily exceed that smaller payload limit.
So, when choosing accessories, always be mindful of how much they will add to your vehicle's kerb weight, to ensure you still have enough legal payload capacity to suit your lifestyle requirements.
Fact is, driving an overloaded vehicle is dangerous and illegal and pleading ignorance will not save you if you get caught or, worse still, cause an accident. So, carefully do your sums on accessory weights before you buy to ensure you're staying on the right side of the law.

After half a year of daily driving in the XTR no major faults were discovered. (Image: Mark Oastler)
A few small things
Six months with a test vehicle provides deeper insights that can be missed during the usual weekly loans, so it requires confidence for a car company to expose its product to such lengthy media assessment.
Mazda's faith in the competence of its latest BT-50 is justified, as after half a year of daily driving in our XTR we discovered no major faults. However, we did find room for improvement in some of the interior appointments that could make a good vehicle better.
As previously noted, like the Isuzu D-Max on which it's based, the BT-50 shares the same flaw in the design of the driver's sunvisor which clips the edge of the rear-view mirror each time the visor is folded down. This contact is enough to dislodge the mirror, which you then must re-adjust each time.  Hopefully this will be rectified.

Each added accessory enhanced the vehicle's appearance and performance. (Image: Mark Oastler)
We would also prefer the quick response of traditional rotary control knobs for volume and tuning of the multimedia system, rather than the relatively slow response of push-buttons.
Rotating knobs are also easier to operate, particularly when driving in rough terrain. In our experience, they just work better than buttons.
There's only one USB port provided in the rear of the centre console for rear seat passengers, but ideally there would be two as there were a few occasions (with teenagers aboard) when charging for more than one device would have been handy.

It is important to be acutely aware of how much weight each accessory is adding to a vehicles total weight. (Image: Mark Oastler)
The lack of illumination of the central-locking master switch on the driver's door makes it hard to locate at night, when you could find yourself in a situation when you need to quickly lock all doors. My wife drew my attention to this, as she thinks it's an important security feature from a female perspective.
And more adjustability in the driver's seat would be nice at this model grade, particularly rake adjustment of the seat's base cushion which is desirable on longer journeys.
Fuel consumption
During our sixth and final month with the BT-50 we clocked up another 568km in mostly city and suburban driving.
Although the dash readout was claiming average consumption of 10.7L/100km, our own figure crunched from tripmeter and fuel bowser readings again undercut the Mazda's calculation, coming in at only 9.5L/100km.

Most accessories from the MGA range have been developed in parallel with the BT-50 from its earliest design stages. (Image: Mark Oastler)
We've said it many times, but that's admirable single-digit economy for a vehicle of this size and weight being mostly used for daily driving chores in metropolitan traffic.
And it has remained consistent across six months of ownership, even though its kerb weight steadily increased during that time from just over 2.0 tonnes to almost 2.4 tonnes when we'd finished installing all of the accessories.
Acquired: August 2022
Distance travelled this month: 568km
Odometer: 10914km
Average fuel consumption (at pump): 9.5L/100km
Average fuel consumption (at pump) after 6 months: 9.8L/100km
---
The Wrap
It's time to hand back the BT-50 and I must say it's been an enjoyable six months of ownership, given not only the XTR's versatility, which made it well suited to our family's lifestyle, but also the opportunity to personalise it with accessories.
Our thanks to Mazda Australia and Ringwood Mazda for their assistance in ensuring the success of this program.
It has room for improvement like any vehicle, but from our experience, that's confined to internal creature comforts. Overall, the BT-50 in XTR model grade is a well-equipped and competent all-rounder for those wanting a quality 4x4 dual cab ute in the $50K price bracket.
It combines nice styling with solid Isuzu-based engineering, thrifty sub-10L/100km fuel economy in 'real world' driving, one-tonne payload/3.5-tonne towing plus a spacious and comfortable cabin and access to a range of quality in-house accessories. There's a lot to like here.
Likes
Five-star ANCAP
One tonne payload/3500kg towing
Build quality and fuel economy
Dislikes
Driver's sun-visor
No audio control dial/knob
Minimal driver's seat adjustment
---
Disclaimer: The pricing information shown in the editorial content (Review Prices) is to be used as a guide only and is based on information provided to Carsguide Autotrader Media Solutions Pty Ltd (Carsguide) both by third party sources and the car manufacturer at the time of publication. The Review Prices were correct at the time of publication.  Carsguide does not warrant or represent that the information is accurate, reliable, complete, current or suitable for any particular purpose. You should not use or rely upon this information without conducting an independent assessment and valuation of the vehicle.